Universal Presentation Concepts (UPC) is the industry leader in the DESIGN & MANUFACTURING of quality fixtures and displays for the consumer product industry.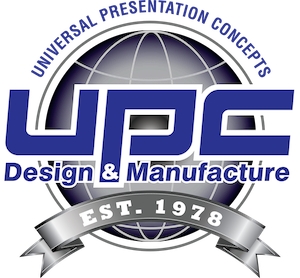 At UPC we create more than displays... We create an environment!
UPC has been partnering with businesses to design and manufacture stunning fixtures for over 37 years. Our uncompromised attention to detail, understanding of the consumer product industry and superior craftsmanship have positioned us as a leader in creating unique displays for a variety of industries:
For over 30 years, UPC has been the leader in providing innovative design solutions for all types of display projects. Contact us today to discuss your project needs and let us put our dedicated team of professionals to work for you.
Our online catalog has a vast selection of proprietary "ready-to- ship" products that caters specifically to the stationery & gift market.
UPC can design & manufacture just about ANYTHING!
From retail store fixtures, to P.O.P. Displays, and Consumer Products under Private Label... WE DO IT ALL!
Some of our processes include CNC, Vacuum Forming, Large-Format Printing, Silk Screening, Lazer Cutting, Molding.
Go visit our corporate website to learn more.
To all current & future customers, we sincerely appreciate your business and look forward to continue working together in the future!
The UPC Team